Winery Mitrovic in Leskovac Long-term Plans Advanced with UniCredit Loan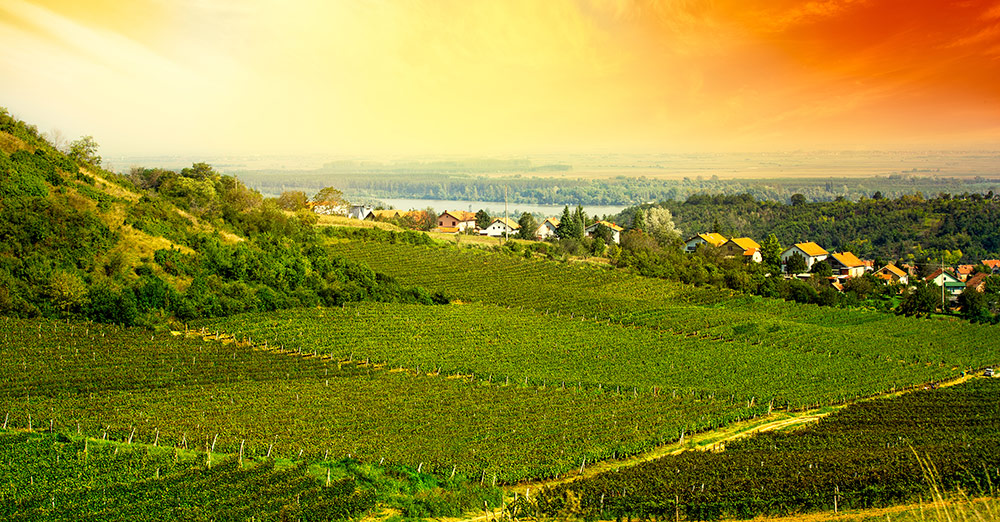 The wine route which flows from Leskovac to the Vranje border passes through two wine producing regions located on the left and right banks of the South Morava river and both sides of autoput A-1 right down to the Macedonia border. Leskovac is the first stop on this wine route which passes through five distinct wine areas: Babičko, Pustorečko, Vinaračko i Vlasotinačko and Leskovački. According to the last agricultural census from 2012, in the Leskovac area records 1,282 hectares of vineyards, producing various local varieties: prokupac, tamjanika, smederevka, vranac, among other international sorts.
In the area of Leskovac and Vlasotinac, despite the number of hectares under wine production, exists a very small number of producers, while in recent years, several serious producers have shown up on the scene, counting as Aquila and Prima wineries in Babićka Vinogorje and Mitrović (Hrusija) in Leskovac.
On the eastern edge of Leskovac, nestled into an older warehouse complex, is Winery Mitrovic or Winery Hrusija, as both titles are equally used. The owner, Dr. Predrag Mitrovic, is a finance expert in the banking industry, with a vision to produce a quality product in the wine industry. Dr. Mitrovic attended the Serbia Rural Finance Program IPARD training in July 2021.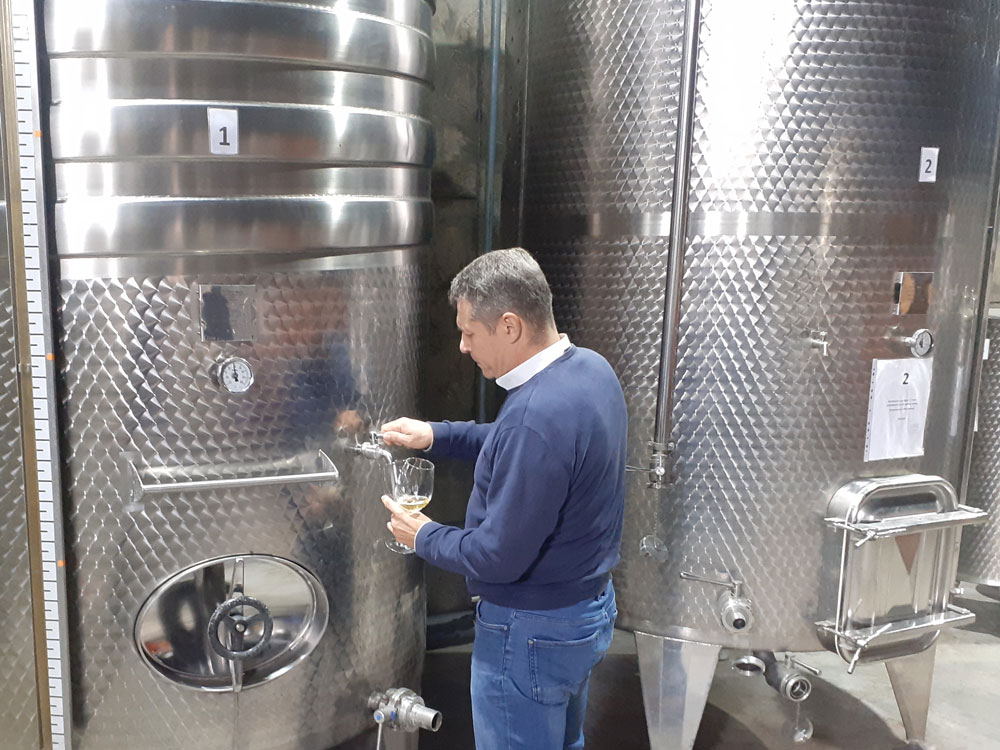 Dr. Predrag Mitrovic, owner, pouring samples from the 2021 season white wine vat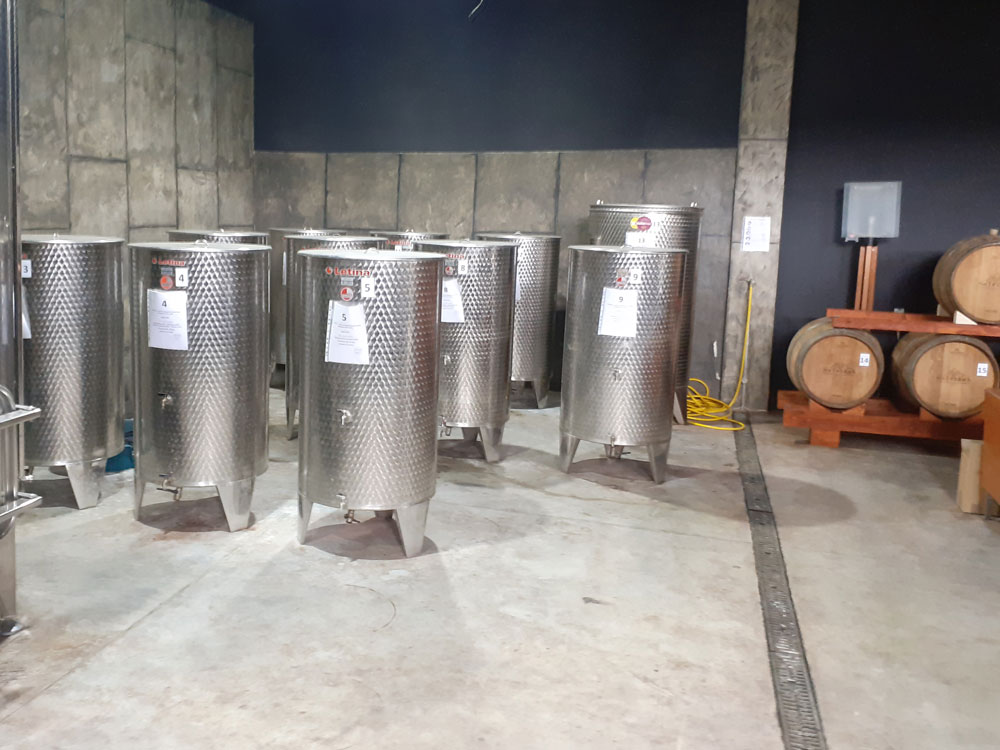 Winery Mitrovic current level of output is 20,000 liters/year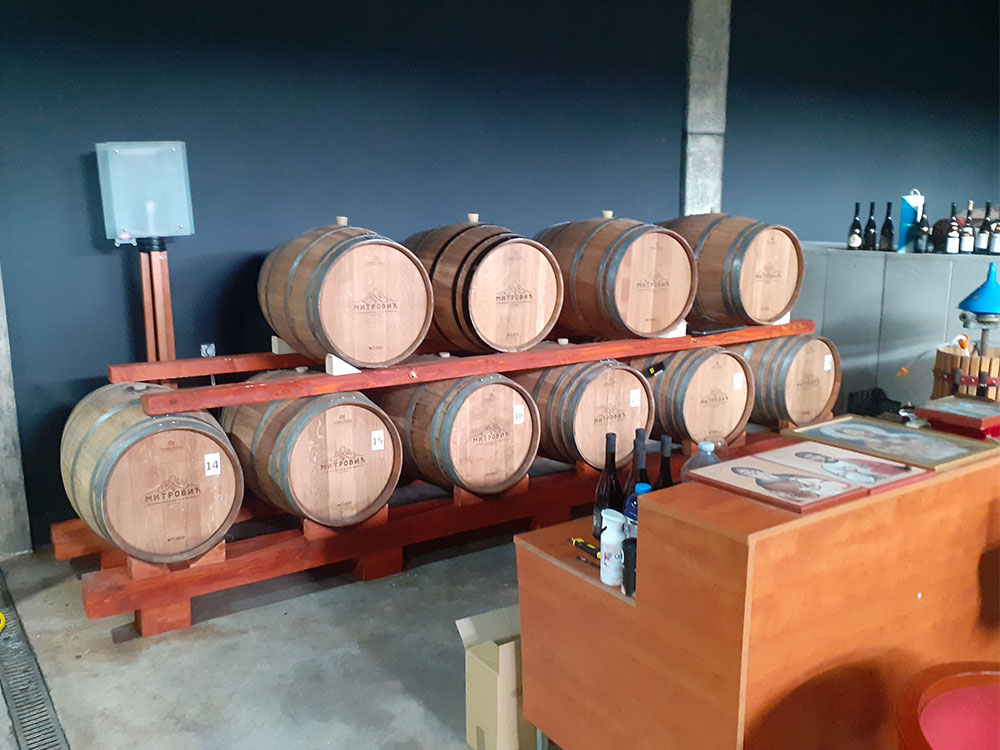 The winery's production facility is situated sub-ground offering a cooler atmosphere to maintain the wine. Oak barrels bought in France are reknown for ageing wine.
At the time of this interview, end of September, we were able to find Dr. Mitrovic just days before the busy grape harvest and processing season began.
Leskovac Region at a Glance

126,883 inhabitants in the Leskovac region
Main industry is light industry such as textile, household commodities and medical industries
Leskovac is known for vegetable farming, producing peppers, tomatoes and similar in open fields and greenhouses, along with fruit orchards
Leskovac is most known for grilled meats, hosting the Leskovac Grill Festival, a seven day event
Leskovac is 361 kms from Thessaloniki, Greece; 162 from Skopje, North Macedonia; and 275 kms from Belgrade
Wine production is in Dr. Mitrovic's blood. The Mitrovic family has produced wine for over a hundred years. In past times, they were banking pioneers in Leskovac, later engaging in the bakery, grain milling and silos industry. Traditionally, the family always had a vineyard, producing wine for their own use or distribution in limited amounts. Two-and-a-half years ago, he decided to go commercial, investing in two hectares of vineyards, purchasing a building on the edge of Leskovac and the equipment for producing up to 20,000 litres of wine a year. This has not been a venture for the faint-hearted, he has invested 500,000 euros thus far, secured through a loan with UniCredit Bank, covered grape processing equipment and a 5,000 litre tank.
Over a number of years visiting the Greek Orthodox religious center, Hilandar, Dr. Mitrovic learned about wine production visiting 5-10 monasteries a year in the Hilandar region. The winery is named after Hrusija, a building called the "Pirg of Hrusija", which is located in the Hilandar complex.
The Mitrovic Winery production facility is fully equipped. Under current capacity, he can produce up to 20,000 litres a year, over one-half of his production is red wine, remainder white. One hectare will yield 10 tons of grapes, for one bottle of wine you need two kilograms of grapes. Interesting note, for those not in the wine business, the winery's largest white wine tank is cooled at 12-20 degrees Celsius. Cooling the fermenting white wine extends the fermentation process and enhances the intensity of the fruity flavors.
The winery building was purchased before two-and-a-half years. The structure of the facility has been reconstructed to allow for wine production activities in one-half of the building. In the other half, still under construction, he has visions of a degustation room and a kitchen with plans to serve food with live music. The 2003 meter hall will accommodate 120, along with outside seating.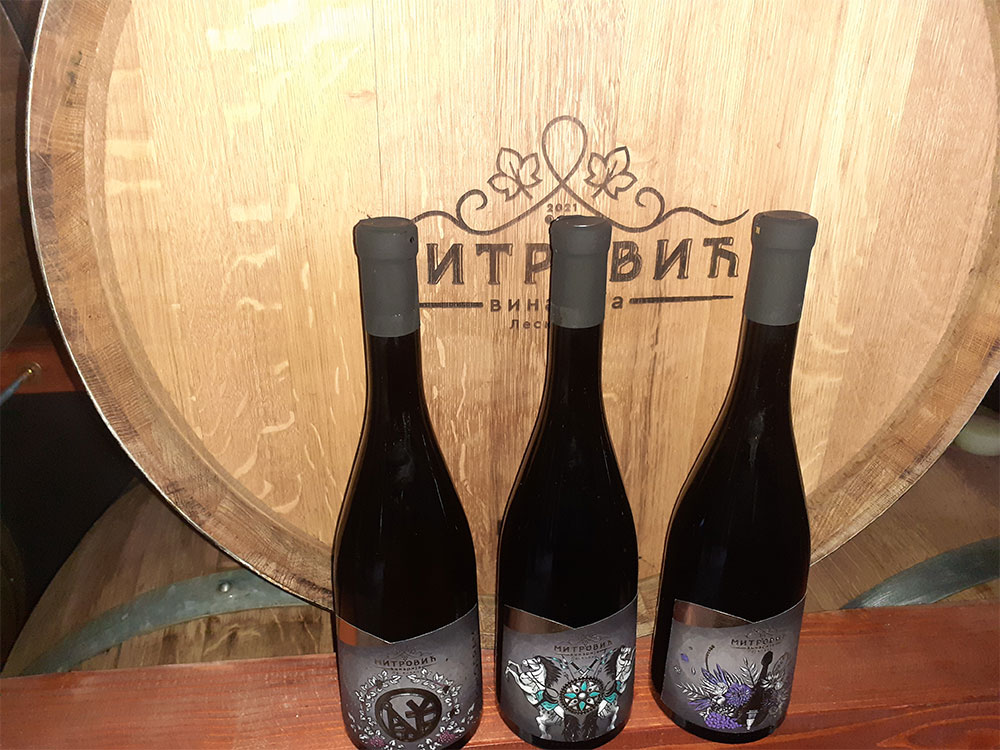 Monogram, Symphonia and Imperija wines produced by Winery Mitrovic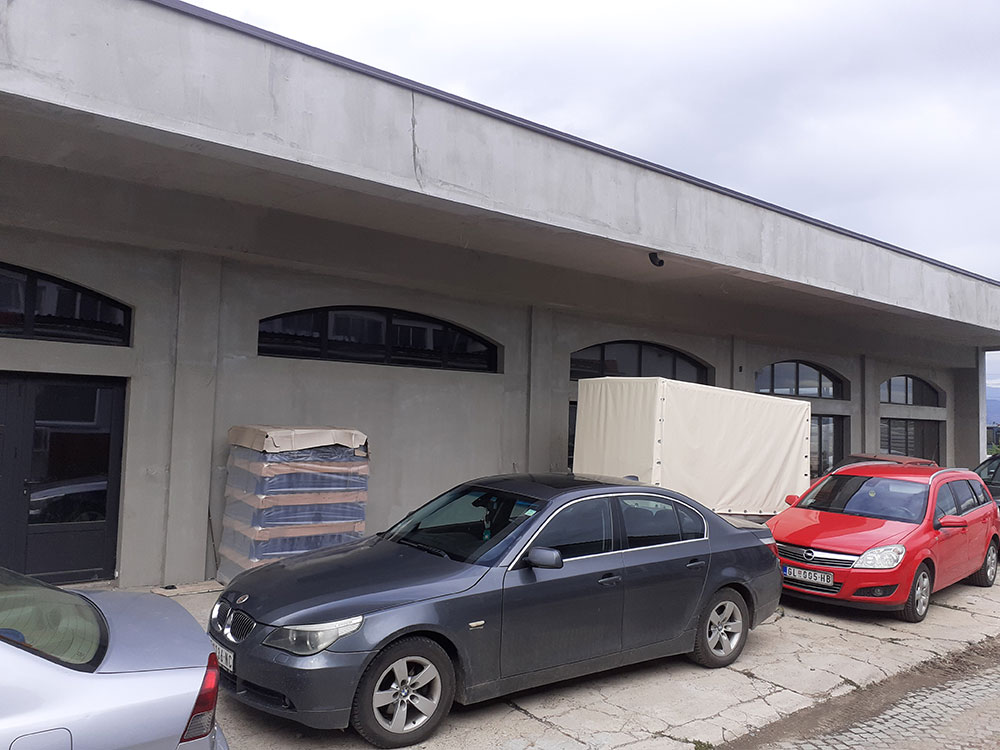 The exterior of the winery is nearly complete. Dr. Mitrovic expects the degustation and food service side of the building to be completed next year.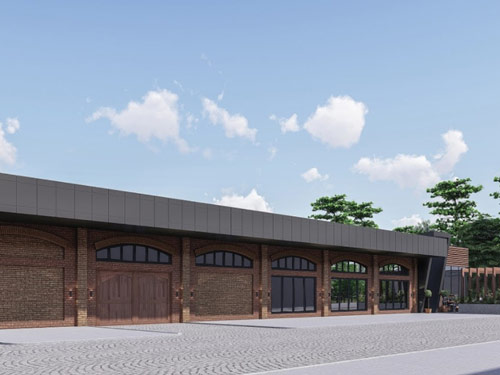 A rendering of Winery Mitrovic when completed in 2023
Geographically, location of the winery is in a favorable position. Next year, the first five star hotel in town will be built on a two hectare plot in front of the winery, only meters away. The winery is at the entrance of Leskovac, the main arterial through Serbia, autoput A-1, runs past Leskovac. Google research shows 1,500-2,000 enquires a month searching for a winery with food service in the Leskovac area. 2.5 million tourists arrived in Serbia in 2021, many arriving to enjoy Serbia's tourism offering or driving south to Greece or Turkey on holiday, a huge potential for Leskovac and south Serbia.
People who are connoisseurs of wine will pay for quality wine from wineries that are not into mass production. Winery Mitrovic has no problem selling their wine targeting the higher end of the market, offering Monogram, Symphonia and Imperija titles for up to twenty euros a bottle. His best wine sells for 50 euros/bottle. Dr. Mitrovic markets nothing in Leskovac, contracting the bulk of his production to buyers in Sremski Karlovac, Grocka and Belgrade. Other than that, he has plenty of friends and contacts that are willing to buy and help with wine sales, musing,
"in Serbia there are 353 registered wineries, but there are many more, smaller wineries producing for the local market. Larger wineries, Navip, Rubin, etc., export. There are many wineries that produce between 20,000-100,000 litres a year, but what's produced for the market is nowhere near the potential of what the market can absorb."
Four registered wineries operate in the Leskovac region, located 20-50 kilometers away. Winery Mitrovic is the only registered winery in the city of Leskovac. There are other wineries in the Leskovac area, naturally, but these are informal, small and family operated. Dr. Mitrovic was engaged as a consultant for URA (Udruženja Receptivnih Agencija), the main tourist agency in Novi Sad, which covers 24 tourist agencies in Serbia. He assisted URA to identify wineries for a map of the Leskovac region to be used as a promotional tool. It was on his initiative that he developed the Leskovac-Vranje tourist wine route encompassing four regions (see map).
Dr. Mitrovic serves as President of the Jablanacki (region) Wine Producers Association. The association organizes group attendance to fairs, regulates geographic origin and eventually a chamber that will register and track branding of wine in the region.
From here, Dr. Mitrovic wants to increase his production up to 30,000 litres a year. His plan is to finish the degustation hall and food service facilities. But it is obvious Winery Mitrovic is already an attraction. At the time of the interview, although the winery is not open for walk-in customers yet, two guys dropped in and Dr. Mitrovic supplied them with two bottles of wine. With word of mouth promotion like that, it is clear the reputation of the winery has already spread and open for service, whether completed or not.