Zlatibor Region Trout Farm Started Up Through UniCredit Bank Loan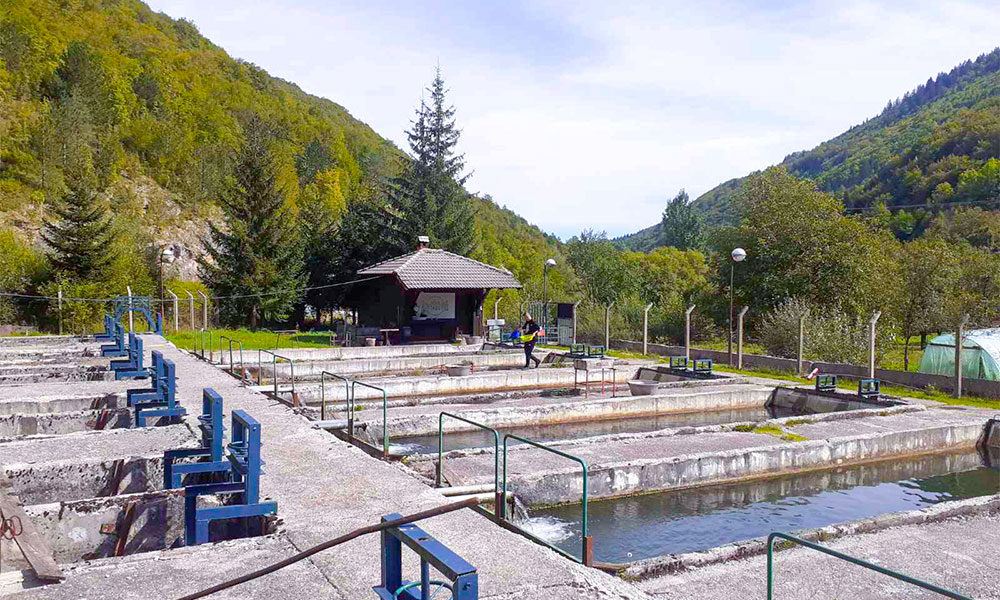 Ribnjak Ljubis fish farm is a little over a three hour drive southwest of Belgrade near the mountain center, Zlatibor, travelling through some of the most scenic regions of Serbia. The farm, located in the village of Ljubis, is the center of operations owned and operated by Vladimir Bojovic.
Vladimir is an economic development professional who split off from the project management world and jumped into the business waters buying a 30 year old trout farm. The farm was originally owned and operated by an agricultural cooperative in the Zlatibor region along with a small hotel adjacent to the trout farm. Two years ago, Vladimir bought the fish pools, and connected infrastructure, from the second owners, a Vojvodina family, that originally purchased the hotel and the trout farm as a package deal. Not wanting to enter into the fish business, the couple sold the trout business to Vladimir.
Vladimir Bojovic, owner, feeding trout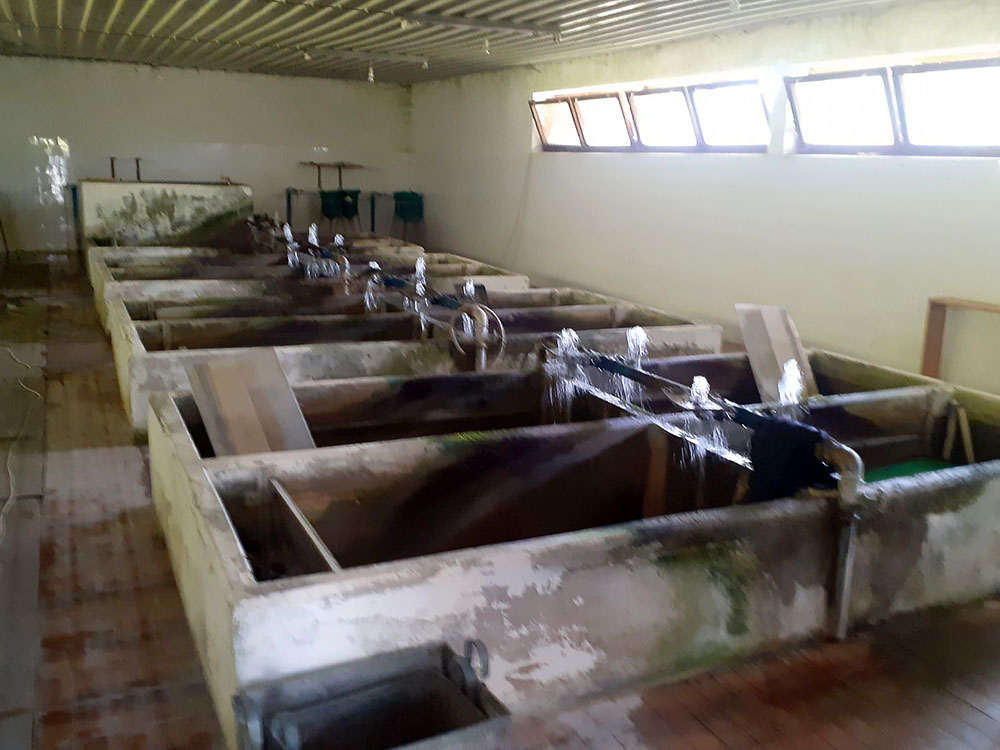 Ribnjak Ljubis has 27 outside and 20 indoor pools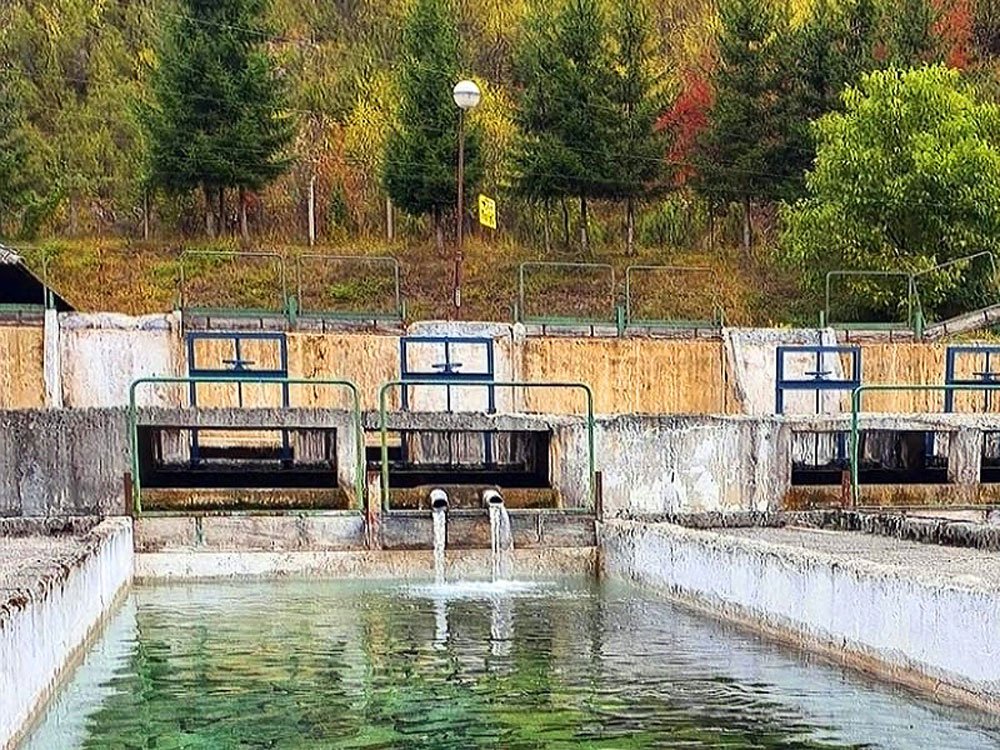 Current capacity of the fish farm 7 tons/year, maximjum is 10 tons/year
Growing up in Zlatibor (Cajetina district), he has come to know the tourism, hotel and restaurant business quite well in his hometown. Zlatibor is the most visited mountain resort in Serbia, recording 500,000 overnight stays a year, the town of Zlatibor has only 2,821 full-time residents. If you grew up in Zlatibor, there is the most probable chance you worked in a business connected to tourism.
Zlatibor Region at a Glance

286,549 inhabitants (physically, one of the larger districts in Serbia)
500,000 overnight stays, the highest in Serbia
The longest gondola ski lift in the world is located in Zlatibor, 8.95 kms long
Region is known for tourism, traditional cheese and specialty meats production, textile production (especially wool)
Zlatibor is 230 kms from Belgrade, 178 kms from Sarajevo and 228 kms from Podgorica
Vladimir is a novice in the fish farming business. Quite familiar with the tourism supply and demand infrastructure in the Zlatibor district, when the trout pools came up for sale, he knew how many trout farms there were in the area and their current production. You see, in the Zlatibor region, there are approximately eight trout farms – and these farms produce mainly for their restaurants situated next to their trout pools. In the summertime, 400-500 kilograms of trout are served every day in Zlatibor. Where his market niche lies is that Vladimir's fish pools sell fresh trout to only to a limited number of hotels and restaurants in Zlatibor, the other trout farms raise limited number of trout for local markets.
The fish farm's infrastructure is dated. There are 27 outside pools and 20 indoor pools. The farm was designed to handle roe to mature trout. For now, Vladimir is buying California fry and raising them in outdoor pools. In the future, he plans to use the indoor pools and start from roe, before moving them outdoors. At its core, the fish pools are structurally sound, the only real problem is the 30 year old metal piping supplying spring water which has reached the end of its life and the dam gates. This will be relatively expensive, but an issue that has to be tackled.
There's a difference between spring-fed and river raised trout. Spring-fed trout earn a premium price, although river raised trout can be raised in large numbers and dominate the domestic market in Serbia. River raised trout has a muddy taste and can easily be detected by a discerning connoisseur.
In peak season, Ribnjak Ljubis can sell 100 kilograms of trout a day, delivering to hotels and restaurants. It takes eight months to raise trout from fry to maturity (400 grams). One of his best customers is an ethno-restaurant only 200 meters up the road from his pools. In the summer months and January, they buy 20 kilos of trout a day. The demand for quality, spring-fed trout is sometimes so large that he has to buy from another fish farm when he cannot meet demand. His fish farm raises 7 tons a year, maximum output is 10 tons, which is his current goal with no medium-term plan of expanding the ponds. For now, he is concerned with raising a quality product and selling at a higher price to develop his market niche.
For the most part, the structure of the pools are sound, 30 year old piping needs replaced with new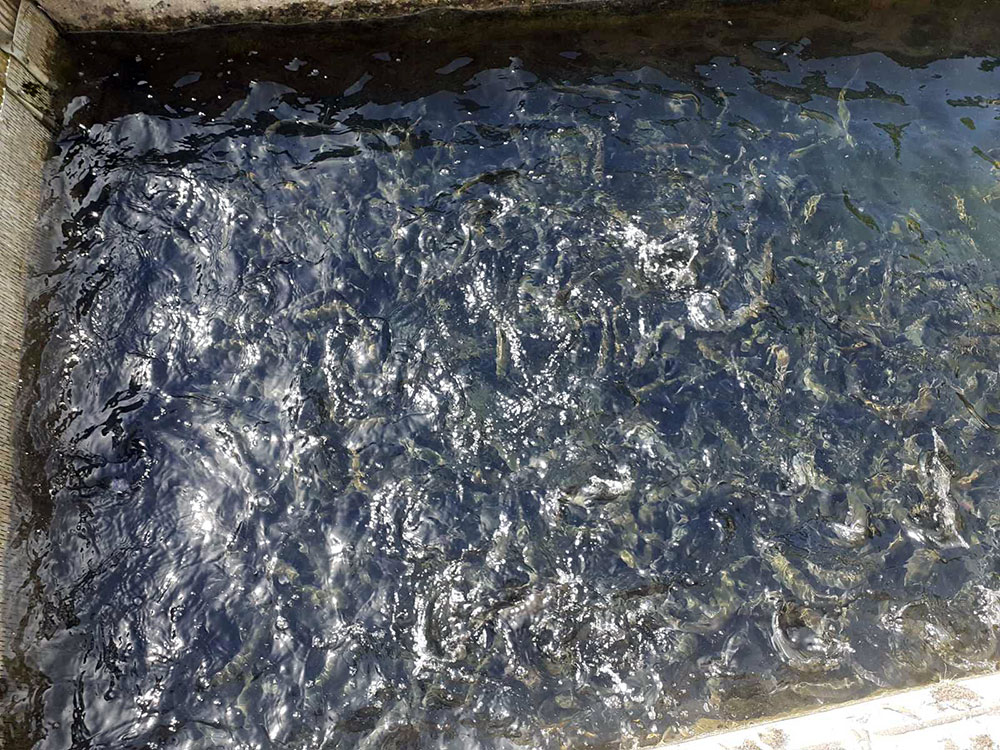 California trout reaching the eight month mark nearly ready for sale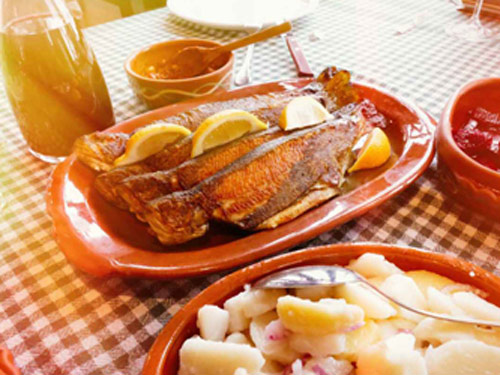 Ribnjak Ljubis trout served in a nearby ethno-restaurant
Vladimir's project management and development experience has come in handy. Besides obtaining a loan through UniCredit Bank, he also wrote the business plan for IPARD (Vladimir attended the Serbia Rural Finance Program IPARD training in February 2021), from which he received financing, observing,
"the average farmer cannot do the project the way I did to buy the fish farm, I got the KfW-backed loan through UniCredit Bank and wrote the business plan for IPARD. 95% of the people from the village cannot do what I did to acquire and fix up this farm."
As the case with western countries, the largest problem he faces is labour. In the village, there is not enough casual labour, not to mention in cities of Serbia. The employee he has now works part-time during the week and never on weekends.
Ribnjak Ljubis currently has no certifications since it is not required. Selling fresh fish does not mandate any sort of certification. If the farm moves to processed fish, then will acquire HACCP and other necessary certifications, they already have a walk in freezer acquired with other donor project funds. For now, he is not even cleaning the fish, only doing so if a customer specifically requests so.
In the past two years, his business has been better than ever. COVID in 2020-2021 raised the number of tourists to the Zlatibor region and the downturn of the economy due to the Ukraine crisis has not affected his business in the least bit. In the end, it appears Ribnjak Ljubis is on the right track, raising a high quality, natural product in a high-demand market placed in one of the most beautiful regions of Serbia.